Dodow Review: Do you have trouble remembering things? Maybe you have dark circles under the eyes and are exhausted all the time with headaches now and then. These are some of the bad things you notice throughout the day. Everyone, including you, sees those symptoms.
The Dodow is a simple light metronome device that is designed to help sleepers dealing with insomnia or other sleep onset disorders fall asleep within 20 minutes. The device is similar to the size of a hockey puck and turns on by touching the top of the Dodow. One tap will turn the metronome on for eight minutes while two taps will turn the Dodow on for 20 minutes. The device will automatically turn off after the chosen time setting. If desired, the user can manually turn the Dodow off before the end of the session with a longer single touch, about two seconds.

What is the Dodow?
The only thing worse than waking up after a rough night might be trying to fall asleep the night before. There are a number of reasons why you might have problems sleeping, including stress at work or that extra cup of coffee you had that afternoon. You may find that you have issues sleeping throughout the night too and that you keep waking up for no reason. Dodow is a handy device that you can use to finally fall asleep and get those precious hours that you so desperately need. This is a new gadget that is part of the emerging sleep technology field, which includes products designed for all types of sleepers.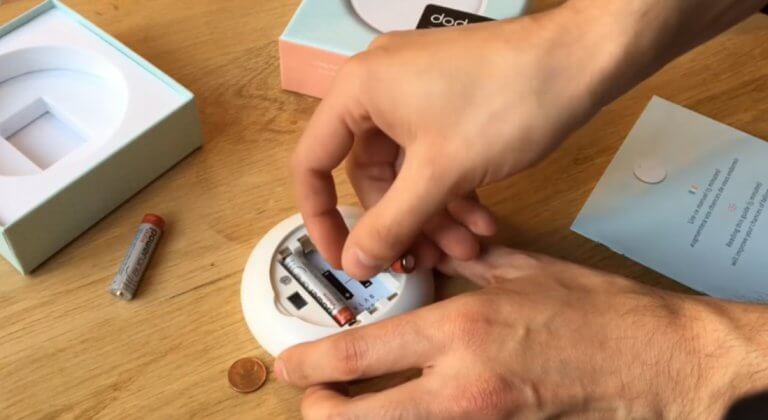 Dodow is unlike any of those other gadgets though because it actually helps you regulate your breathing. Have you ever laid in bed at night and felt your heart pounding in your chest and your breathing coming out ragged? This can happen because you do not know how to calm your breathing, which is an important part of getting the sleep that you need. Though Dodow reviews are mixed at best, many users found that it actually helped them fall asleep easier and faster than anything they ever tried before.
Dodow has helped over 300,000 users fall asleep faster using science-based guided breathing techniques. Based on a survey of over 300 users, Dodow helps users fall asleep 2.5 times faster than normal.
Dodow Technical Specifications
The table below lists dimensions, weight, and other key information for the Dodow.
| Key Information | Specs |
| --- | --- |
| Dimensions | 4.5″ x 4.5″ x 2″ |
| Weight | 7 ounces (without batteries) |
| Power Source | Battery operated |
| Necessary Batteries | 3 AAA |
| Power Consumption | Hundreds of nights |
| Luminosity | Less than one lux |
Dodow's Build & Design
The physical build of the Dodow sits at 4.5 x 4.5 x 2-inches, comprising a highly compact disc-based design. It roughly resembles an alarm clock that's been set on its side, fitting in with the décor of any bedroom relatively unobtrusively. Empty of the necessary batteries, it weighs about 7 ounces, which makes the Dodow quite portable.
I general, the Dodow is smartly designed. For example, as a sleep aid device, it runs completely silently at all points of operation. The tap-sensitive surface means the entire console is essentially one large button. Consequently, ease of use is exceptionally simple. Just place the Dodow next to your bed, in any place where you're able to see the illumination. A nightstand would be perfect for the Dodow.
Once in position, tap the surface of the Dodow one time for a standard 8-minute cycle. For the longer 20-minute cycle, you just tap twice. The Dodow will come online and begin its slow breathing light. As you follow along with your breath and continue to relax, the Dodow will automatically shut off after the cycle is complete.
With that said, the Dodow isn't an invulnerable fortress of new-age engineering. It's built to survive a short tumble off your nightstand, and should even make it through spilt water. But it's clearly not intended to take a beating, so don't start using it as a doorstop while you're awake. Left by the bedside, its durability is completely sufficient.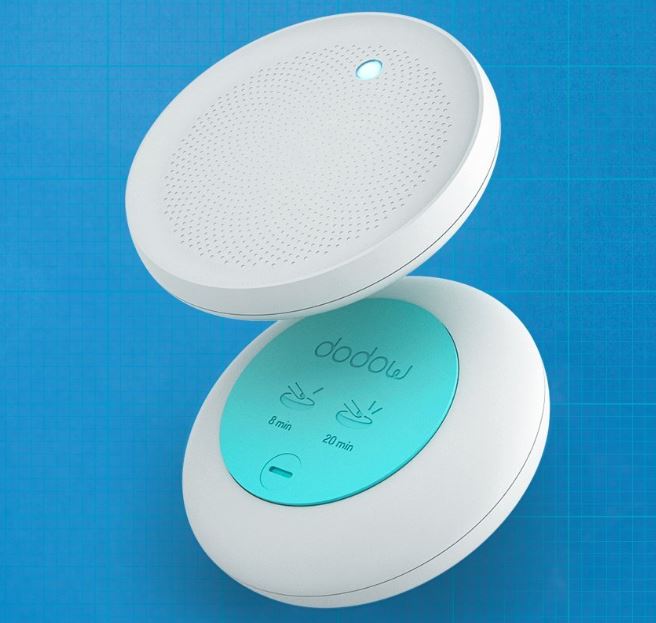 Battery Power
The Dodow Sleep Aid is powered by 3 AAA batteries. Fortunately, that means you don't have to deal with adding a bunch of wires around your bed. Paired with the small lightweight design of the Dodow, being wireless allows it to be exceptional for taking with you on the road. Those you have problems sleeping on business trips or vacations might want to take notice.
Unfortunately, being powered by batteries means sooner or later you're going to have to swap them out. Fortunately, the Dodow isn't exactly a lighthouse. You can squeeze hundreds of sleepless nights out of your life on a single set of batteries. It's a shame that Dodow hasn't decided to include some kind of low-battery indicator to help you better prepare for when replacements are needed. Like other types of bulbs, LEDs begin to dim slightly when you've consumed about half of their maximum battery power. Thankfully, that gradual dimming provides at least some indication of the status of the batteries.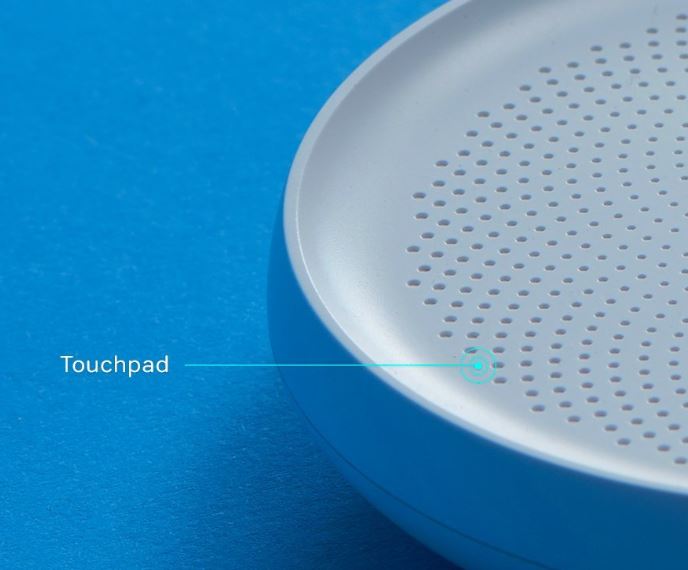 Features Of Dodow
Uses rhythmically pulsing soft blue light to guide and slow your breathing rate
Tap once for 8-minute session and twice for 20-minute session
Automatically shuts off for ease of use and battery saving
Small, compact unit runs off AAA batteries, making it an ideal travel companion
Benefits of Using the Dodow
We have been gone past what, the science behind it, how it works, and who is this device for. Now, we will be looking more on the beneficial side that anyone will get when they use this device. Here are the following benefits: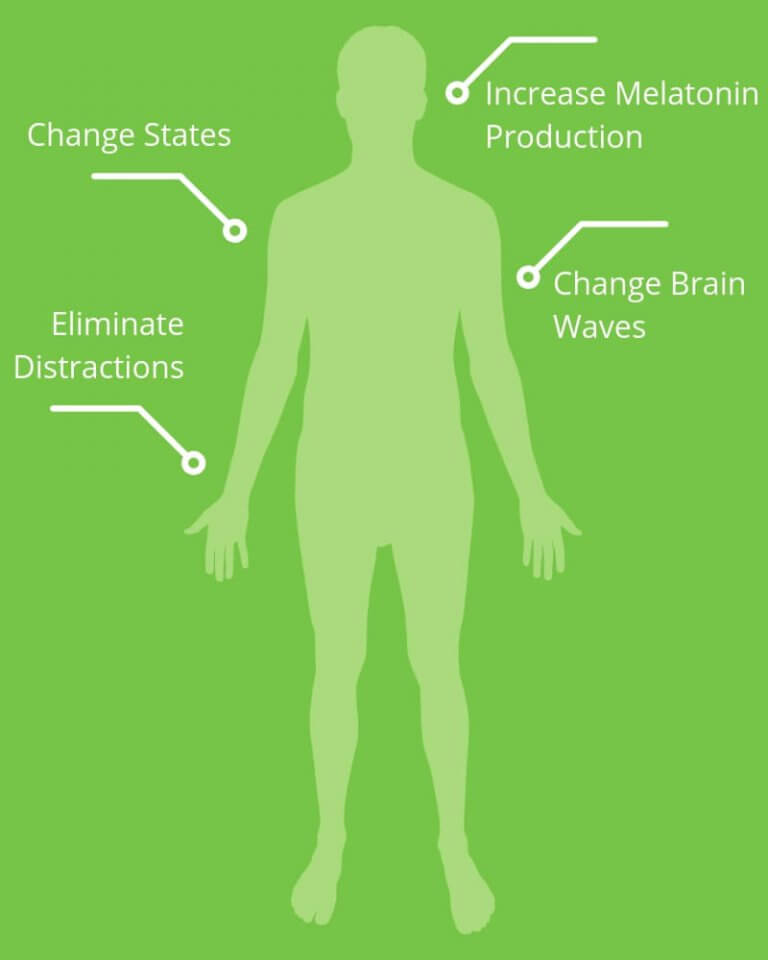 How Does Dodow Work?
The Dodow is a sleep aid that uses a light metronome to provide a natural, non-habit forming, and inexpensive method to help users fall asleep within 20 minutes. The device has two settings that are controlled by tapping the top of the Dodow.
One Tap for an Eight Minute Session. For sleepers who have trouble falling asleep, this setting gradually decreases breathing rhythm to six breaths per minute for eight minutes.
Two Taps for a 20 Minute Session. The longer Dodow session may be beneficial to those will chronic insomnia who take several hours to fall asleep. The breathing rhythm slows to six breaths per minute for 20 minutes.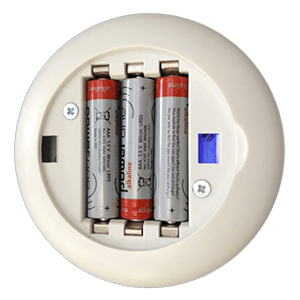 Once you put it on the countertop next to the bed, simply tap the surface once for the eight-minute program and twice for twenty-minute one. After that's finished, the device will shut down automatically so you won't worry about the battery draining.
Dodow uses AAA batteries so you won't have to carry a charging cable with you. Its small size makes it perfect for traveling on business trips and vacations when you're staying in a hotel room.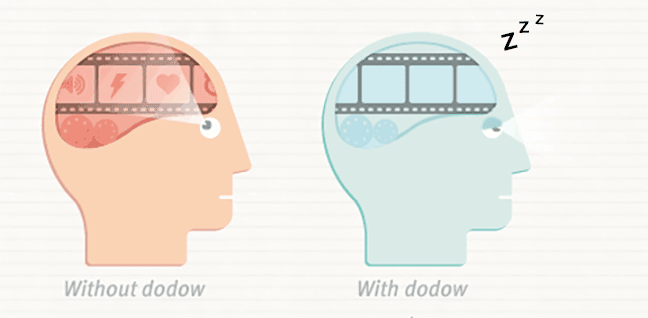 What's Included with the Dodow?
Each Dodow box comes with the following elements:
One Dodow device with touchpad capabilities for selecting an eight minute session or a 20 minute session.
Three AAA batteries which will last up to 100 nights with normal use.
Instructions manual for battery placement and how to use the device.
Customers will need a flat blade screwdriver or a coin to open the back of the Dodow to insert the batteries.
Reasons for Sleep Problems
Stress is the most common reason why you can't sleep at night. The stress that you feel at work can carry over into your personal life when you come home at night and lead to fights between you and your spouse. You may even find yourself taking out some of those frustrations on your children and friends. Some people experience sleep troubles because of the people they live with too. If you share a bedroom with someone who snores or talks in his or her sleep, the chances are good that you either aren't getting the sleep that you need or that you can't stay asleep all night. You might hear others moving through your house too such as your kids playing games or talking on their phones.
Hormone changes can also impact your sleep patterns. If your body slows down its production of the hormones that you need, you can expect to have problems falling asleep at night. You may want to talk with your doctor and undergo some tests before deciding on the right type of treatment for a hormonal imbalance. Even if there are multiple people living in your home who all have a different sleep schedule, you can still use the Dodow to fall asleep quickly.
You had too much caffeine the day before
There are too many electronics and blue lights in your bedroom
You are still hungry
The bed you sleep on isn't comfortable
There are too many noises in the room

The technicalities behind Dodow
During its development process, the folks at Dodow researched Pranayama, which is a yogic practice of controlling your breathing that results in slowing down your respiratory rate. When they tried it as a relaxing technique, it replicated the brain activity only shown in a deep sleep.
Many studies have shown that breathing slowly with control is the best outcome for easing stress and mental turmoil, which helps you fall asleep faster. Dodow achieves that with a relaxing effect that lowers your heart rate and makes you feel tired and sleepy.
Dodow's Pricing
You can purchase the Dodow from the company's website ($59) or Amazon ($59.90). The advantage to Amazon is that Prime members can get the item in two days, whereas purchases from the website can take up to 10 days.
Dodow has a 100-day money-back guarantee through which you can return your Dodow if you aren't happy with it. You also have the ability to return the item via Amazon, as well, if you choose to purchase it there.
The Final Word: Pros and Cons of Dodow
Based on our research of this product, we believe that Dodow's strengths lie in the fact that it provides a novel way for individuals to get into a nighttime routine that relaxes them and prepares them for sleep. And, many customers have noted that the machine actually works, a conclusion that has some scientific support, although not an extensive list of pertinent studies.
We believe that the downside to the product is the cost, as a $59 machine may be too expensive if you're on a tight budget. And, because the machine acts as a breathing trainer, you may be able to find pre-sleep breathing routines that may or may not be as effective as the Dodow.
How Much Does a Dodow Cost?
The Dodow is currently priced at $59 per device. The company also a discount if more than one device is purchased at once. Two Dodows are priced at $98, a 16 percent discount off buying them individually. Three Dodows are priced at $117, 33 percent off the price of buying devices separately.
Buying Guide – Choosing the Best Device
Just like for a sleep device, these are the following factors that you should consider:
Price – aside from the quality, people go for cheaper products. Well, there is nothing wrong with purchasing products at the lowest price but not applicable to all types of products. Check its feature first and its pricing on a trusted site before you add it to your shopping cart.
Battery and product-life – you have worked hard to earn money; that is why it would be advisable if you can find the product that is truly valuable and is long-lasting. It would just be a waste of money if, after using it a few times, it will already get broken. Better check its battery life to know how many hours
Downloadable app – with the advent of smartphones and other devices, it is also worth looking for products that will promote comfort and ease of use. Check whether the device that you bought comes with a downloadable app, just like the dodow app, where you can easily access and set up through your smartphone.
Built and design – we are all about comfort the moment that we purchase a particular product. Go for products that are built with quality as well as ergonomically design that isn't heavy or bulky to take much enough of your room's space.
Frequently Asked Questions
How does Dodow work?
Dodow gradually slows down your breathing to an optimal rate of 6 breaths per minute to put you in a state of rest and to re-balance your autonomic nervous system.
Is there a way to get a longer sleep setting than 20 minutes?
There are 2 available settings in the product: 8 or 20 minutes.
Why does it emit blue light?
The blue light can indeed mess with your melatonin production, but thankfully Dodow thought of that and made the light's halo too dim to have an impact on your bodily functions. Its intensity is lower than that of a pc or a mobile screen.
Does this product come with a money-back guarantee?
Yes, this product comes with a 100-day guarantee. If it doesn't work, then without a doubt, you can send it right back.
Will I still be able to sleep with its blue light?
Yes, although blue light may keep someone awake, it is also found that this color gives a soothing and relaxing feel. The creators of the dodow sleep aid device had made sure that the light is dim enough not to cause any impact to distract your sleeping ability.
What if I didn't fall asleep when the set session has ended?
Well, it would not happen as half of the Dodow users have reported falling asleep right at the end of the session. It would rarely happen if you will not fall asleep, but if not, to remain patient and think that you will be able to fall asleep.
Is it suitable for both the young and the elderly?
Yes, even if they have different breathing capacity compared to an average adult, children and elderly people can use Dodow. It is also said that it may take more than one session for either the age range before they can fall to sleep. The creator behind this great product pointed out that the blue light can help alleviate the fear of darkness among young children. So, it alleviates their fear at the same time it helps them to fall asleep quickly. However, it is not suitable for children's six-year-old and younger.
Will it be possible for Dodow to help me even if I worry or thinking too much?
Worrying can really keep someone wide awake as it is not just a simple psychological problem; it has a physiological impact on the body, too. And Dodow will help you by breathing and disrupting your mind from worrying. It will keep your attention focused on the breathing exercise, allowing you to set aside those worries, relaxing the mind and the body.
Can You Use the Dodow if You Sleep on Your Stomach or Side?
The Dodow requires that you focus on the light produced and both inhale and exhale as that light changes. This will require that you sleep on your back. You can, however, use it if you sleep on your side or stomach. Once you reach the end of your session and find yourself drifting off, you can slowly move into your usual position.
Why Do Experts Warn Against Blue Lights?
Blue lights refer to the lights produced by the electronics in your home, including the screen on your cell phone and your television screen. The light used by the Dodow is much lighter and will not interfere with your body's natural production of melatonin. It will not disrupt anyone who sleeps in the same room either.
How Long Does it Take to Work?
The first time that you use the device, you may find that you feel sleepy but that you still don't fall asleep. You can actually set the device to run through as many sessions as you need until you drift off. Most users found that they noticed significant changes within a few nightly sessions of using the device.
Does the User Need to Sleep on Their Back for the Dodow to Work?
The company recommends sleepers lay on their backs to get the best experience from the Dodow. After the session is over, if the sleeper is still awake they may move to sleep on their side or stomach.
What Happens if the User is Still Awake After the Session has Ended?
Dodow states half of users will still be awake after the eight-minute or 20-minute session is over. Users may repeat the session again if desired until they fall asleep. Dodow promotes learning how to fall asleep within eight to 20 minutes, but that goal may take some users up to several months to achieve.
Can the Dodow Disrupt Other Sleepers in the Room?
The Dodow's blue light is low enough that any sleepers in the room who have their eyes closed will not notice the light.
Isn't Blue Light Bad for Falling Asleep and Can Even Disrupt Sleep?
Smartphones, computers and televisions all emit blue light which has been linked to sleep onset and duration issues because it has an impact on the body's production of melatonin. The Dodow's light is blue but is too dim to cause any issues with melatonin secretion.