Flexsafe Review: Travelling is an amazing experience, but there are so many things you have to worry about. You always have to keep one eye on your bags at all times, and you never know how someone will try to steal your things.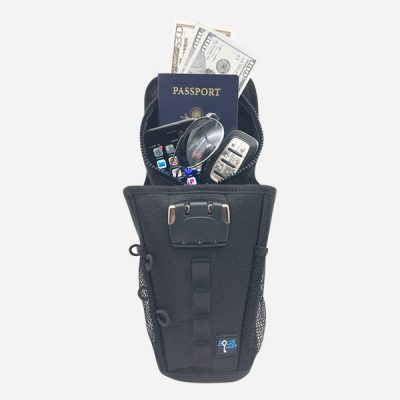 What is FlexSafe?
The flex safe by Aqua Vault anti theft portable safe is designed by Aqua Vault. It was started by three college graduates with the dream of producing anti theft portable safe.
FlexSafe by aquavault is the ultimate solution to having your valuables secured while you're in areas that you can't keep an eye on your stuff. The owners created the product after having their personal belongings constantly ruffled through when biking, strolling the beach, or in hotel rooms.
What makes it innovative is its ability to wrap around and tightly secure itself to bikes, beach chairs, hotel clothing racks and much more. It provides you with a portable and convenient safety deposit locker at a moment's notice. The FlexSafe creators describe their product as a "portable safe".
Why FlexSafe?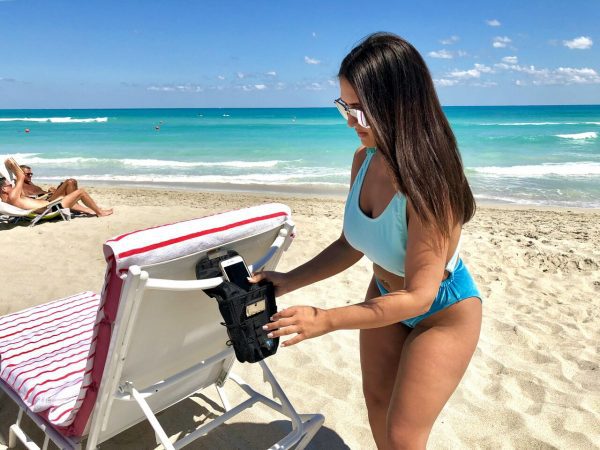 Design
The FlexSafe is made of a material that is slashing proof, meaning that a thief cannot easily slash its way through the bag. Also, there are other layers of important materials like an RFID blocking material so that thieves are not able to scan your wallet cards as well as a more rigid material so it can protect your stuff from bumps and bruises.
The main compartment is closed by a thick zipper that folds back on itself when you lock the FlexSafe. This makes sure that once in a close position, you cannot simply unzip the pouch. The locking mechanism is strong and sturdy and accepts a 3-digit number code so you can easily and quickly lock and unlock it. The interior is basically empty, it's a big pouch with no dividers. I have large hands and I could easily fit 2 and 1/2 close fists in there so there's ample room for keys, keycards, wallets, iPhones and a GoPro HERO 5 camera. Basically, everything I had on my last trip 2 weeks ago!
On the exterior you have a bunch of rubber hooks and mesh pouches if you have other non-valuables like swimming goggles, a pencil or other nick-nacks you need to have around. On the bottom of the FlexSafe you have a hole to help it dry if ever water was to get in. And finally, there's a loop to attach it to your belt so you always have it ready for action.
Performance
As I explained earlier, I was on a trip and I wished I had this exact product as I did have an iPhone and a GoPro with me at almost all times during the week. There were long chairs that would have been perfect for the FlexSafe! The main pouch flap that wraps around a chair, bike frame or stroller is wide enough to fit on almost any tube-shaped object. Even wardrobe poles do the trick, just make sure you can't just remove the pole and take the FlexSafe out!
The thickness and strength of the FlexSafe are impressive and I feel reassured that it can hold my valuables safe. The added loops and mesh pouches are great for other random stuff with low value and I like that it has a handle for carrying it.
The only thing I could see updated or made better is the numbered wheels for the locking mechanism. They only go down, you cannot turn them on the opposite direction and they should be bigger or gripper. I often missed my number by one and have to do a full circle again to get it right. Nothing major here, just something I could see better. I'm wondering if the bigger size FlexSafe+ has a larger keypad…
No matter how safe and crime-free your place is, there will always be the possibility of snatchers waiting for you to put your guard down. Just place your phone on the table and the minute you leave it, it's gone. Place your bag on the floor or on a chair, and someone could slash it to fish your wallet out. It's nerve-wracking and stressful. But FlexSafe is a portable safe (yup, you heard it right. It's a safe, like the metal box that's password-protected) that keeps your valuables safe wherever you go.
It's supposed to work so well that it was even featured in Shark Tank, Good Morning America, Forbes, Today, and ABC. I wanted to try it out and make this FlexSafe review so I could see what the hype was about.
Find out if it truly works or if it fails to deliver what it advertises by reading my FlexSafe review.
FlexSafe Locks to Any Fixed Object
Lounge Chairs
Umbrellas
Strollers
Golf Carts
Bicycles
Boats
Wheelchairs
Closet Rods & More
FlexSafe Keeps Your "Stuff" Secure
Lock the FlexSafe onto your Stroller to enjoy every minute with your family!
Beaches
ResortsTheme & Waterparks
Cruises
Hospitals
Dorm Rooms
Camps
How it Works
Our Patented design fits on lounge chairs, umbrellas and tons of other things. Simply insert your valuables, zip it up, secure it over the bar and close it. Lock it and swim!
Select the combination for your flex lock (and make sure you remember that)
Put your valuables in the bag.
Close the zipper of your bag.
Attach the bag to a fixed object.
After attaching the bag, just fold its flap on the object to snap its lock.
PROS and CONS

How Much Does It Cost?
You can purchase FlexSafe Aquavault at an amount far below the value it offers. As a durable product, no amount spent on it is a waste, you can use it for as long as you can imagine. Not only is it a portable safe, it is an incredible safe that brings you peace of mind. It is easy to use, no complexity can be attributed to its use. Check the list below for the price of flexsafe and package;
1 piece of FlexSafe
You can purchase one piece at $59.99. This price includes the shipping fee and handling fee.
2 Pieces of FlexSafes
When you buy 1 FlexSafe, you are entitled to a 25% discount on the second piece.
So, instead of buying two at $119.98, you pay $104.98 and save $15.
No Shipping fee is charged for locations within the USA.
3 Pieces FlexSafes (Widely Sought)
Due to the amazing discount that purchasers enjoy when they buy three flexsafe, it is the most popular package.
When you buy two flexsafe, you get 75% discount on the third piece.
Instead of paying $179.97 for 3, you pay $134.98 (You get to save $44.99)
There is also free Shipping in USA.
Frequently Asked Questions
What is FlexSafe?
FlexSafe is a portable travel safe that can keep your precious belongings safe from being stolen from thieves.
I can't unlock my flexsafe. Is there a reset code?
If this happens, you have to contact customer support, and they will send you the combination. After that just save your combination in your account, and if you ever forget what it is, you can access it from your phone or pc.